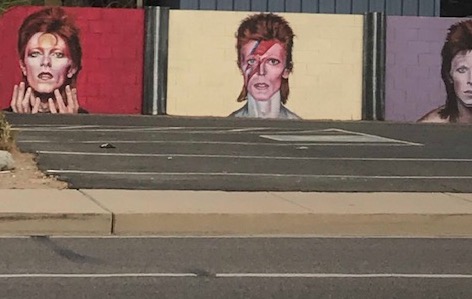 How a Daytime Look Transitions for After 5 & Holiday Parties – Inspired by the Dynamic Style of David Bowie.
It all started with my red jumpsuit. Or, was it the mural of David Bowie, by Maggie Keane, that I spotted in rush hour traffic in Phoenix, Arizona one evening? Most likely, both – two sparks of inspiration colliding together in an explosion of re-invented style.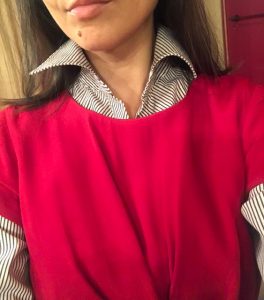 David Bowie's red overalls worn in 1974 (the year I was born) also inspired me. However, it was certainly more daring than my jumpsuit. His office was a concert stage and well, mine's literally an office, and sometimes a client meeting over lunch, dinner, or an industry event. So, they are both appropriate for their time and place.
From here, my red jumpsuit from an Anthropologie sale merged with a few other elements of Bowie-inspired style that he sported in the 70's, 80's and 90's. These include interesting  prints and colors for daytime. Then, a 1950's vintage style hat, vintage scarf as headband, metallic details and a thrifted embroidered jacket for after hours (interesting shoes may apply all day, depending where you work or, what you do).
An extra shout-out to my friend and talented photographer, Dawn O' Doul, who helped me showcase these looks beyond my selfie shots. Last, but not least, thank you, Maggie Keane, for creating a fantastic homage to David Bowie in downtown Phoenix.
If you feel inspired to update your closet and or create work looks that transition for the holidays and beyond, let's talk!
Share :